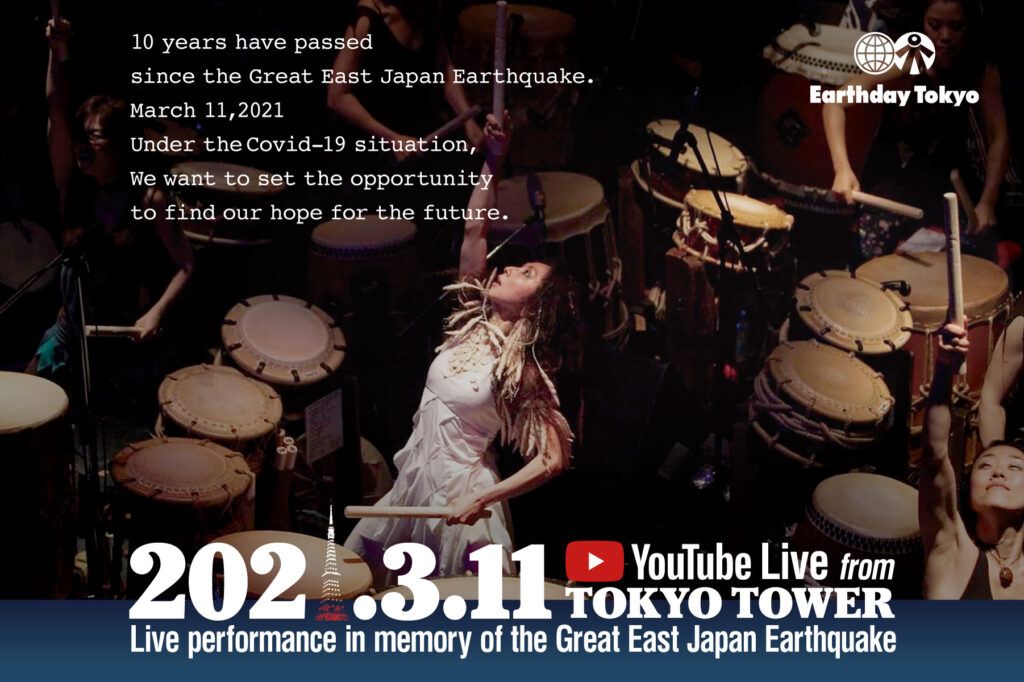 Live performance in memory of the Great East
Japan Earthquake will be held from 18:50 on
March 11, 2021.
[Date] Mar 11, 2021 (Thursday) 18: 50-20: 05
[Venue] Tokyo Tower 1st Observatory 1st Deck Special Stage
[Details] Online live streaming (no audience)
[Streaming Channel] Earth Day Tokyo YOUTUBE channel

https://www.youtube.com/user/earthdaytokyo2014


[Moderator] Yae (Singer) https://www.yaenet.com/

[English moderator] Yuki Iwama(Fashion Model)
[Live Performance] GOCOO (Japanese Drum Band) http://jp.gocoo.tv/
We will connect Japan and the rest of the world online,
light candles, and play "ELEVEN", a Japanese drumming piece created by 311!
Ten years have passed since the Great East Japan Earthquake happened.
March 11, 2021
Under the Covid-19 situation,
We want to set the opportunity to find our hope for the future.
On the night of Mar 11th, the memorial live will be streamed from Tokyo Tower through YouTube.
There will be no audience, but
All of us will do our best that our thoughts will reach to your hearts.
Tokyo Tower will also be illuminated for the memory.
"311 Memorial Candle Night" will be simultaneously held.
Please join us by lighting a candle at home.
We wish to spend your night for this memorial together with us.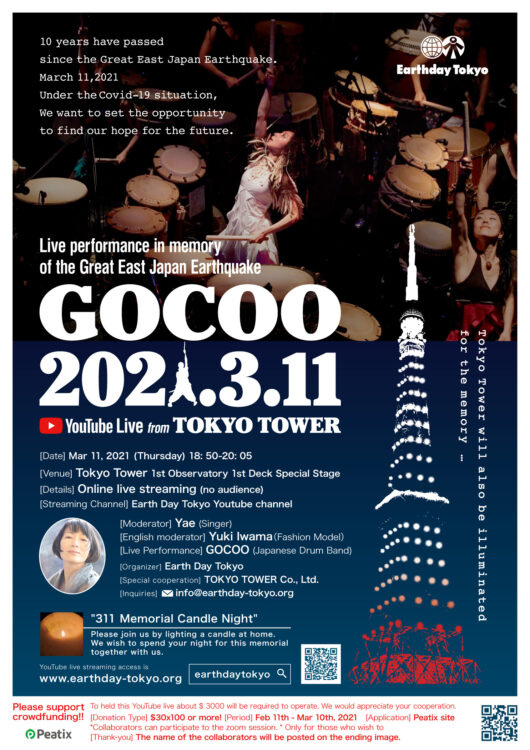 Download : 311live_eng_A3_poster.pdf
<Crowdfunding for Operation>
To held this YouTube live of the 10th anniversary of the Great East Japan Earthquake,
about 300,000 yen (about $ 3000) will be required to operate.
We would appreciate your cooperation.



[Donation Type]: 3000yen x 100 or more!
[Period]: Feb 11th – Mar 10th, 2021
[Application]: https://peatix.com/event/1827874

* Collaborators can participate to the zoom session. * Only for those who wish to
[Thank-you]: The name of the collaborators will be posted on the ending image.
[Organizer] Earth Day Tokyo
[Special cooperation] TOKYO TOWER Co., Ltd.
[Inquiries] Earth Day Tokyo
info@earthday-tokyo.org